Our pages work for every kind of fundraising, from sponsored fun-runs to ice bucket challenges.
Enable your supporters to raise sponsorship, collect donations, set targets and create pages that are part of your organised events.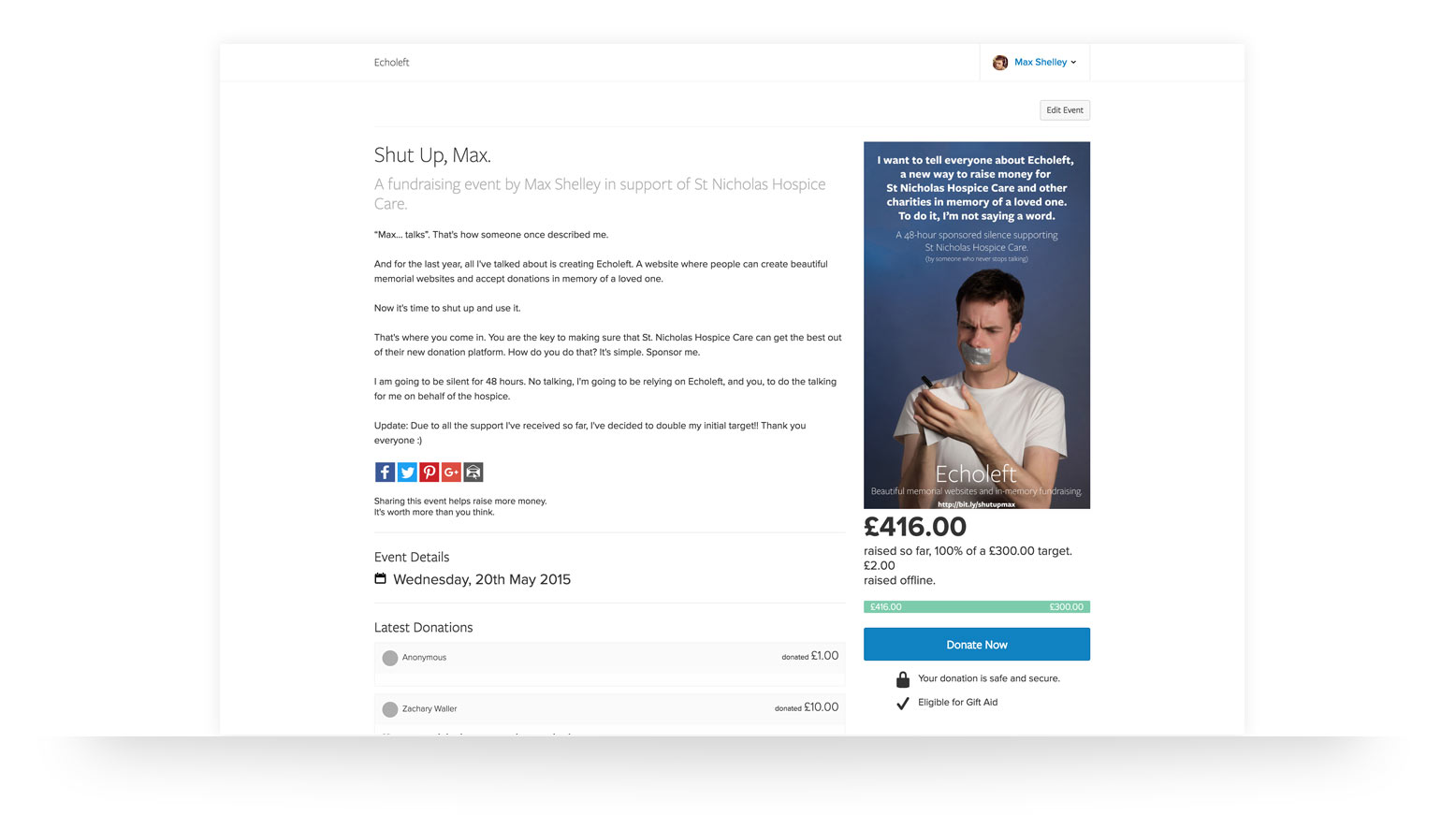 Our fundraising pages allow your supported to upload an image, tell the story of their event, set a target and let people know how much they've raised offline.
Your organised events are built in to our fundraising pages.
When your supporters register or buy tickets for your organised events, we can guide them to create a fundraising page at the same time. Your event registrations and their fundraising activity all in one place, automatically linked. See fundraising totals for every event, alongside ticket sales, registration fees and donor information.
Your donors, your data.
Information from your supporters helps you create targeted, wonderful experiences for them. Echoleft is a tool to make that easier. We provide clear privacy controls for donors and a simple control panel for you to make the most of that data.
Offline Totals
Supporters are able to add totals for offline fundraising, for all the donations they receive in person. If they are raising money in memory, offline totals are automatically added to the tribute fund total.
Times, Dates, Locations.
For fundraising pages created in support of an event, your supporters can let their friends and family know the event details and provide a link to your site. If a supporter registers for one of your organised events, their fundraising page will be pre-filled with all the relevant time, date and location details.
Promotional Tools Built In
We provide a suite of tools to help your supporters share their fundraising pages and encourage donations. Customised messages for social media sharing and personalised email content messages from your charity. We recognise the power of helping fundraisers leverage the most value from their audience.